The second adventure with Wendy and Dixie is packed with funny horse action and a new friend for Dixie and Wendy. Down below we introduce all the horses of the new movie "Wendy- Freundschaft für immer"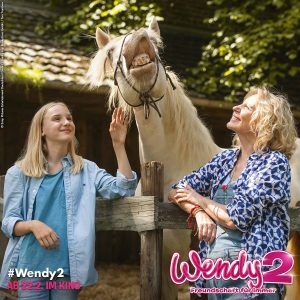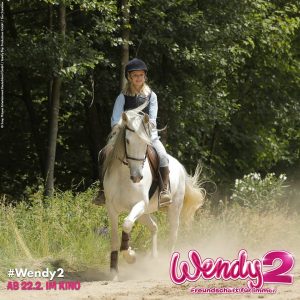 In the second part of "Wendy" the team of horses was growing immensely. In addition to the incredible Larimar (main character "Dixie") there will also be the beautiful mare "Penny" (played by Fineza). In order to create all these amazing horse scenes, we had to cast doubles for Larimar and Fineza as well. Larimar was doubled by Sasou (who is also known from Ostwind) and Imara (who had her movie debut). Next to Fineza we've been casting the newcomer on our team Chloé, who did the show- jumping scenes on this movie.
The impressive stallion Queiros represented the wild and nervous Penny. The other two characters Ambassador and Tornado travelled all the way from France (Francoise) and the Czech Republic (Kety) to Cologne.
You will find photos and information of these horses in the section "network > horses" and more photos in the section "gallery".
Team on set: Vanessa Wieduwilt, Kaja Wild, Barbara Rönneburg, Suzanne Struben- Séra, Svea Wrangelheim, Ina Krüger- Oesert, Kenzie Dysli, Jana Jelenová, Jimmy Kitson, Sylvia Delorge, Lea Goldberg, Joachim Fetten, Anja Mertens, Katja Jerabek, Tanja Pelster, Elodie Houdas, Lara Appelhoff, Verena Lennartz, Pauline Faucon, Steffi Schöfisch, Janina Labutová, Maya Johanna Happ, Jule Göttsch, Zuzana Soborová, Jan Sobor, Frantisek Mekota, Katja Svihovska, Tanja Riedinger, Friederike Wendt, Pia Rilana Klein, Hannah Ringeisen, Wiebke Hiller, Jessika Zerlett, Marcel Stefanski, Dennis Grzesczak, Simon Grzesczak, Sascha Grzesczak